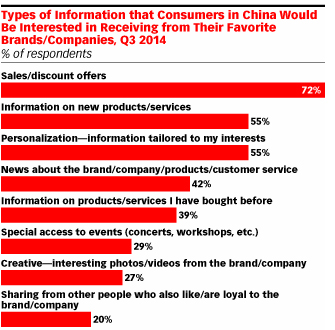 Consumers in China agree with those just about everywhere else: What they're most interested in getting from brands is information about sales and discounts.
More than seven in 10 adults in China who were under age 65 and living in tier 1 or 2 cities told Epsilon in Q3 2014 they were interested in such messaging from their favorite brands and companies. Information about new products and services as well as personalization tied for second place, at 55%.
Epsilon also found that the most likely place respondents were to want that information was in stores. Epsilon asked the same question back in 2012, but in-store wasn't an option. In 2014, 45% of consumers selected it.
In 2012, most consumers in China said they wanted to get information via text message (53%), followed by email (50%). In-store wasn't the only new response offered in 2014; WeChat, mobile apps and QQ were also new options, and each garnered between one-fifth and one-quarter of respondents.
The No. 2 choice in 2014, however, was company websites (30%). Email came in third, at 27%.
In-store information wasn't the most popular in all cases, however. Product category played a major role. While in-store won out for grocery, clothing, luxury goods, restaurants and the financial services industry, people researching travel preferred looking to company websites, and those making ecommerce purchases had a variety of digital information preferences.
Read the original post at eMarketer.com