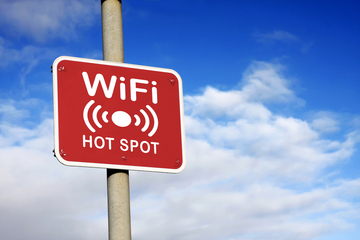 Want a leg up on your retail competition? Offering in-store Wi-Fi to your customers could be the key to your store's success.
Forty-seven percent of shoppers would be more likely to choose one store over another if it offered seamless, automatic Wi-Fi, a recent poll from Wi-Fi Alliance found. Twenty-eight percent of shoppers would stay in a store longer if it had Wi-Fi access, the study also revealed.
And not only are shoppers more likely to visit a store if it offers Wi-Fi — they're more likely to leave empty-handed if it doesn't.
Sixty-nine percent of consumers have used a mobile device in-store to do research or conduct price comparison on an item, and 1 in 3 respondents said they had abandoned an in-store purchase because they couldn't complete research on a mobile device.
So what does that in-store research entail? Here's what customers said they use their mobile devices for:
Forty percent use their mobile device to look up product coupons.
Another 40 percent look up similar products to do price comparisons.
Forty percent take photos of products they're interested in.
Thirty-six percent text, call or video chat someone to get their opinion on the product.
Thirty-five percent look up product reviews.
Sixteen percent access the store's customer service website.
Wi-Fi is so important to consumers that 74 percent of them said they were willing to sacrifice various things to have free, instant Wi-Fi access whenever they leave their houses. For example, 40 percent said they'd give up alcohol, 30 percent said they'd give up chocolate, and 28 percent said they'd give up social media.
But if business owners decide to take advantage of this and offer Wi-Fi in-store, they should make sure it's simple to connect to and doesn't require account creation. According to the survey, 64 percent of respondents said they frequently don't bother to connect to Wi-Fi because it's too much of a hassle to log into a hotspot.
The Wi-Fi Alliance is the worldwide network of WiFi providers and a global non-profit organization dedicated to wireless networking technology. The online study, which the organization conducted with market research company Wakefield Research, surveyed 1,000 U.S. and 1,000 U.K. smartphone and tablet owners ages 18 and older.
Read the original post at Businessnewsdaily.com