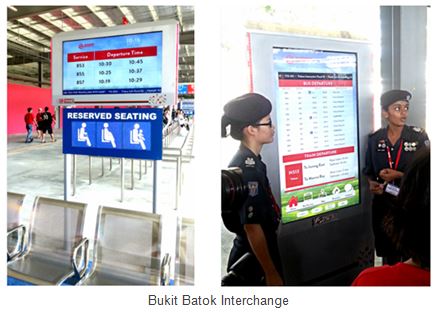 From March 2015, SMRT Singapore is rolling out the latest in 3D Wayfinder technology – encompassing live data feeds for its transport services – into its transport hubs across Singapore.
The interactive screens display "real time bus and train" information with bus arrival and routes, via an API with the SMRT live data feeds. The screens also 3D Wayfinding layouts of the facilities and location information for each transport hub.
INTERACTIVE PANELS and SATELLITE DISPLAY PANELS
3D Wayfinder hybrid screens deployed in SMRT Hubs and Stations.
Interactive panels with real time information and interactive 3D Wayfinding
Satellite information display panels with real time bus info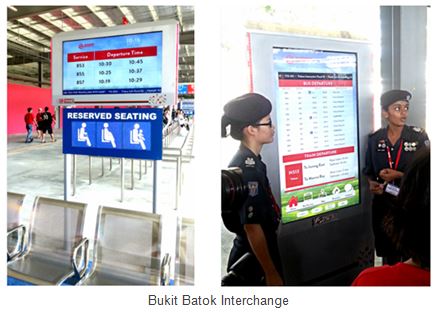 CORE FEATURES ON THE HYBRID INTERACTIVE PANELS
100% 3D Wayfinder "Touch Screen" features:

Pinch zoom and rotate the 3D map and move in all directions
"You are here" spot – indicates user's current location
Graphical route animation with real-time 3D walkthrough

Displays 3D map of the interchange with "real time bus and train" information – on bus arrival and route to bus berths – via an API with the SMRT live data feeds.
Bus directory. All bus services can be accessed from drop down list for detailed info on bus routes, frequency, fares.
Select Mode of Transport. The screens also allow customer to select their mode of transport, such as Bus, Train, Taxi and Car pick-up lanes.
Directions. Screens provide itinerary calculation from the interchange to visitor's desired destinations by Bus and Train.
3D map of the interchange Levels with facilities, shops, restaurants, entrances, pick-up lanes and public services.
Languages. Screens have buttons for four languages / multi-lingual content.
Feedback. Customers cab rate a bus services or the bus interchange + user data retrieval (email address)
Night mode from 7pm to 7am : darker design adapted to the night.
FUTURE OPTIONS TO BE IMPLEMENTED:
Advertising screen savers for promotional panels and videos.
Multiple integrations with social networks, timetables, clock, weather, transportation, websites and Advertising campaigns.
Integration with different physical devices – proximity sensors, speakers and printers.
CENTRAL CMS FOR CONTENT MANAGEMENT:
All screens are easily monitored, managed and controlled from a central Content Management System.
Statistics of usage – such as tenant popularity, language popularity, popular search keywords, most popular advertisements – are displayed in real time.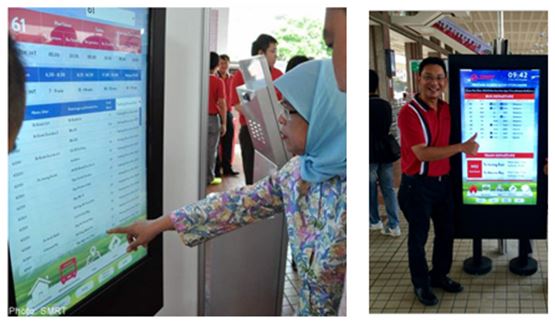 SCREEN SHOTS OF THE KEY FUNCTIONS