AssistMe Click and Collect
In-Store |  Online |  Tablet  |  Mobile
AssistMe Click and Collect can display an entire product range allowing customers to view and combine endless items to create their ideal outfits. It combines the best of the online and in-store shopping experience within the physical retail environment and drives incremental sales.
All items are displayed together with the price, complementary offers, instant purchase instructions along with the ability to share via Social Media platforms. Regular customers can log into their own personal 'online store', and recommendations will be made based on previous purchases, for that personal shopping experience.
All data captured can be accessed on the central CMS dashboard for analysis by the Buying, Merchandising and IT teams, providing invaluable customer insights.
Click and Collect In-Store
Available with optional Virtual Mirror / Dynamic Sizing
Customisable Sports Kit
In-Store Selection and Purchase
In-Store Touch Screen

These touch screens can be located around a venue or even in remote locations.
Mobile Tablet

The touch screen interfaces can also be used on a Windows Tablet by in-store staff.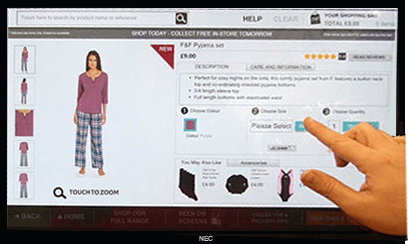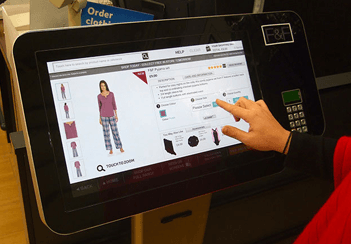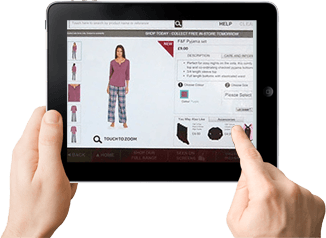 AssistMe Click and Collect on Wall Mount
AssistMe Click and Collect on Touch Screen Stand
AssistMe Click and Collect on Mobile Tablet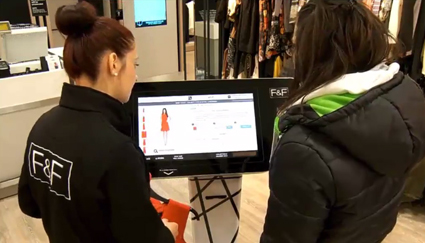 Click and Collect with Virtual Mirror
In-Store, the Click and Collect units can be integrated with the Virtual Mirrors.
This combination allows the customer to choose and correctly size their garments choices on the Virtual Mirror, tap to send the desired garments to the Click and Collect unit and then make their purchases on the spot.
Benefits to the Customer
Quickly and easily view and build outfits from a selection of hundreds of garments, styles, brands and colours
Search entire collections quickly and easily
Place orders in-store for home delivery
Save selections to a personal wardrobe

Benefits to the Retailer
Showcase entire collections which may not have been previously possible due to floor space
Increase up-selling and cross selling opportunities for increased revenue
Enhance customer service
Improve marketing and brand awareness via social media
Reduce missed sales opportunities
All data captured can be accessed on the central CMS dashboard providing invaluable customer insights.
Interested in an Mobile App version of the AssistMe Click and Collect for customers?  Give us a call.