AssistMe Interactive ChangeRoom
Fitting rooms are one of the major 'pinch points' for customers in fashion / clothing retail stores, while conversely being the ideal location to interact and upsell customers.
AssistMe Interactive ChangeRoom is an innovative RFID platform designed for retailers to address the multiple challenges of increasing sales per customer, marketing and merchandising, addressing customer satisfaction, business intelligence and theft reduction.

AssistMe ChangeRoom Standard Platform:
Central Panel in the fitting room complex has the following benefits:
Monitor the number of garments in / out of each fitting room cubicle
Indicate the maximum number of products allowed in fitting room
Compare garments taken into the fitting room with items purchased
HELP Button for Assistance Alert call
Collate and benchmark the number of assistance requests made and attended
Record the duration of time that a fitting room is occupied
Schedule and verify fitting room checks if required
Connection to Online eCommerce and data systems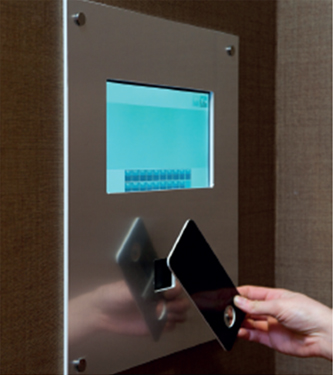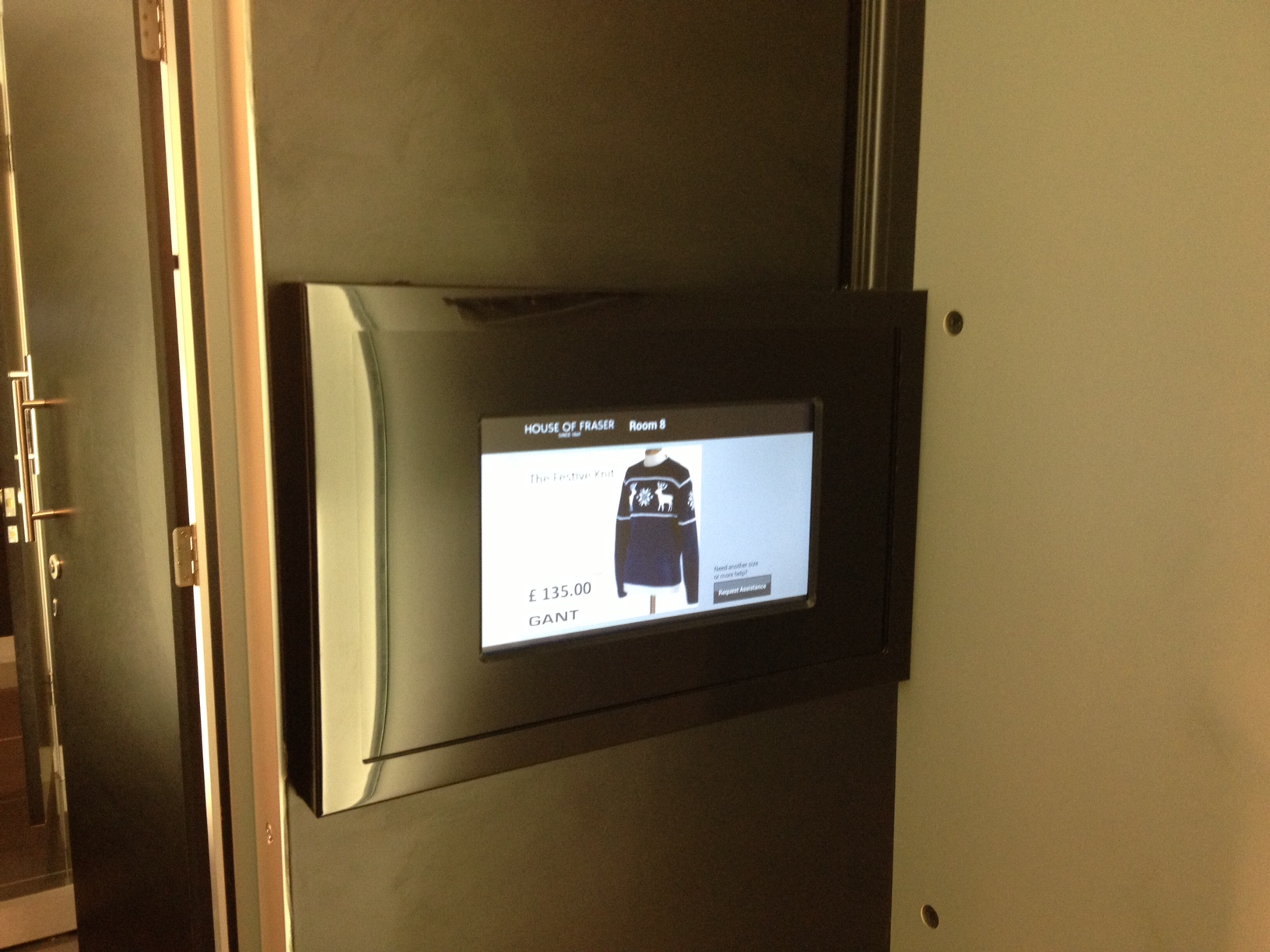 AssistMe ChangeRoom with Fitting Room Touch-Screens:
Adding the AssistMe Changeroom Touch Screens in each fitting room provides the following additional benefits:
Call assist panels located in each individual fitting room
Match products taken into the changing room with offers targeted at that individual shopper
Offer other clothing options to the customer
Offer optional "most popular" items for each garment choice
Advertise or promote website links for garment purchase within each cubicle
AssistMe Changeroom Benefits
Enhanced customer service
Offering shoppers a higher level of associate assistance in the change rooms making them feel just how important they are to the business
Increased sales
Customers can notify store associates if they need another size by pushing a call button in the change room increasing customer service.
Increased business information
Clear understanding of change room occupancy, sales cleanliness cycles, call assist requests and responses
Theft reduction in change rooms
Better staffing and monitoring of merchandise coming in and going out.
Payroll reduction
Attendants work the sales floor when there is no one in the change rooms. When someone enters the change room area, attendants are paged.
Reduction of returns and reduction of markdowns
Due to improper fit of clothing not tried on.
Easy identification of "abandoned merchandise" reduces manpower for re-merchandising or garments requiring markdown to sell.
Enhanced Sales and Fitting Room Reporting:
In addition to improving the day-to-day operation of the fitting room, management information is generated and system reports can be viewed through a secure web-portal by authorised members of staff, allowing them to understand:
Garment count vs time in fitting room
Time % staff coverage at the fitting rooms
Total garments taken in vs time of day
Average % cubicle occupancy vs time of day
Assistance requests and response times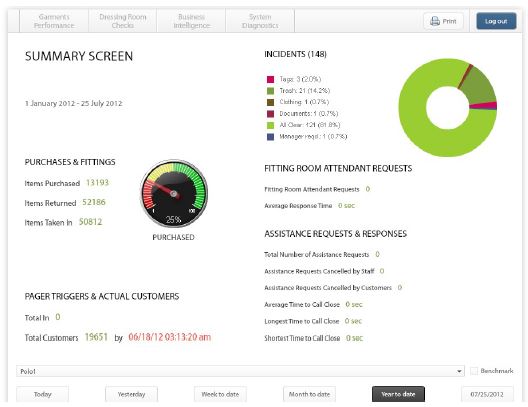 When a shopper enters the fitting room area, a motion detector triggers a page message to the appropriate store associate.
The Fitting Room Management System welcomes the shopper and directs them to a free change room and then monitors the customers garment selections – via the RFID tags – and requirements for assistance.
"As sales assistants connect with customers and answer assistance requests during the fitting process, sales increase, theft decreases and customer satisfaction improves."