Dating back to 1960 and E. Jerome McCarthy's concept of the "Four P's of Marketing," using Product, Price, Promotion and Placement as the primary pillars of marketing strategy has served companies and their investors very well. And although the Four P's have gone through various iterations over the years, I believe that another "P" – "Proximity" – is most relevant to investors today, as it represents the final connection between companies and consumers. With Bluetooth-enabled devices and a consumer who has expressed a willingness to receive ads ("opted-in"), leading retailers and brands including Apple AAPL -0.72%, Macy's, Coca-Cola and Procter & Gamble PG -0.32% are utilizing Proximity Marketing to close the last gap between the customer and the register.
The idea of Proximity, the physical location of a product with respect to the consumer, involves a new dimension previously untapped given the limits of technology until recent years. Sometimes called hyperlocal marketing, Proximity Marketing uses cellular technology to send marketing messages to mobile-device users who are in close vicinity to a business.
Via a Wi-Fi or Bluetooth signal, proximity marketers can send content similar to a mobile application program (app) that appears automatically on the mobile devices of consumers. While the audience is limited to those in the proximity of the business and those using its wireless signal, the message is very user-friendly and reaches those most likely to buy.
Why Should Investors Care?
According to JiWire, the facts are clear as it relates to the value of Proximity Marketing:
53% of consumers are willing to share their current location to receive more relevant advertising.
57% of consumers are more likely to engage with location-based advertising.
62% of consumers share local deals with friends.
63% of consumers feel a coupon is the most valuable form of mobile marketing.
Targeted offers based upon proximity leads to higher conversion rates, which is the ultimate goal for brands and their investors.
In an article on iMedia Connection, Yory Wurmser talks about Apple and its role in Proximity Marketing. "Apple created a wave of excitement in the retailing world last fall when it released iBeacon, a proximity messaging system based on Bluetooth Low Energy (BLE) location beacons and integrated into iOS. By baking hyperlocal messaging into the operating system and letting apps send push notifications seamlessly, iBeacon and similar capabilities in Android promise to make hyperlocal marketing a much bigger reality." Even if you are not pushing offers to willing consumers, a big initial contribution of hyperlocal tracking may be improved analytics rather than proximity messaging.
Macy's, an early adopter of Proximity Marketing, announced in September that it will be rolling out the technology to all of its stores after a successful pilot last holiday season. Shopkick 's shopBeacon technology, an enhanced mobile location-based feature built upon Apple's iBeacon, will be placed inside certain store departments and allow Macy's to send personalized department-level deals, discounts, recommendations and rewards to customers who opt-in to receive the offers.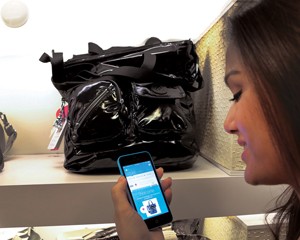 In addition, brands such as Coca-Cola, Procter & Gamble, Levi's and Kraft have implemented InMarket's version of the technology. InMarket has reported that interactions with advertised products increased 19 times and in-store app usage was 16.5 times higher for users who received a beacon message.
In casinos, beacons can be placed at the entrances to engage customers as they enter (or exit) the casino. Further, beacons can be placed in the slots and ER gaming area, the poker room, the gaming tables, the bars and restaurant. This allows casino operators to engage with customers depending upon their gaming and visitation behaviors.
A large casino in Las Vegas is using Proximity Marketing to tailor messages to customers of all types. For example, someone could enter who is not a member of their players club, and a reminder could be sent on the benefits of joining and instructions on where to sign up. On the flip side, VIP customers could come in and be sent a welcome greeting. In addition, VIP hosts could be alerted and meet the VIP guests with their favorite drinks.
An Effective Tool For Generating Higher ROI
Proximity Marketing has tremendous revenue-producing potential, allowing everything from retailers, hotels, casinos and more, to deepen their connection with consumers, encourage more loyalty and greatly improve the customer experience. Importantly, all of these factors combine to make Proximity Marketing a very effective tool to generate higher ROI for businesses and advertisers.
Read the original post at Forbes.com