Here are some of the most interesting digital marketing stats we've seen this week.

Stats include the best features to include in mobile apps, marketing budgets, mobile search, Google Analytics and the rise of Google+.
For more digital marketing stats, check out our Internet Statistics Compendium.
Exclusive offers and in-app purchasing most important features for mobile apps
Data from our new Mobile Commerce Compendium shows that, more than anything else, consumers want to be rewarded with exclusive offers if they download a retail app, with 38% of respondents selecting this as an important feature for smartphone apps.
The ability to make a purchase in-app (32%) and a loyalty scheme (30%) were also considered to be key features, followed by a store locator tool (26%) and a reserve-and-collect function (21%).
In your opinion, what are the two most important features that smartphone retail apps should offer?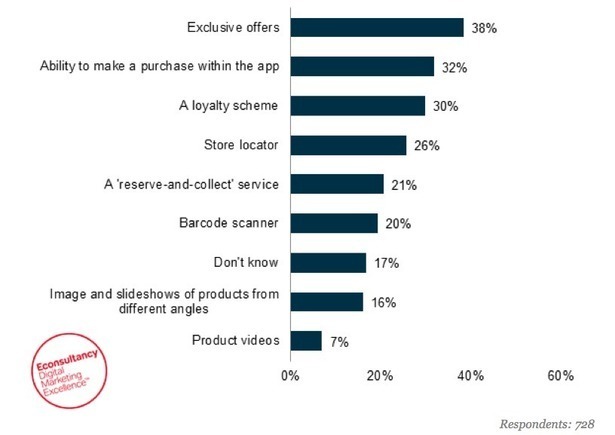 Digital marketing drives increase in Q2 ad budgets
Digital marketing proved to be the driving force behind a boost in Q2 ad budgets, according to a new IPA Bellwether Report.
Overall UK marketing budgets were increased in Q2 2013, with 22% of companies indicating an upward revision in the latest survey compared to 15% that had scaled back spending. The resulting net balance of +7.3% is the highest since Q3 2007.
One of the key factors in this increase was what the report rather broadly refers to as 'the internet'. A net balance of +17.4% of companies indicated that internet-related marketing budgets had been increased, up form +8.9% in Q1.
Mobile now accounts for 18% of sales for affiliate marketers
Smartphones and tablets now account for almost a quarter of traffic for affiliate marketing campaigns, a massive six-fold increase in less than two years.
A new report from Affiliate Window shows that 22% of traffic and 18% of sales come through mobile and tablet devices, figures which respectively stood at just 3.5% and 5% back in November 2011.
The data comes from millions of sales and clicks recorded every month from more than 1,400 retailers' and advertisers' affiliate marketing campaigns.
Smartphones alone account for 13.6% of total traffic, which shows the importance of tablets for ecommerce as the devices drive a similar level of visits to smartphones despite a much lower penetration rate.
Percentage of affiliate traffic through smartphones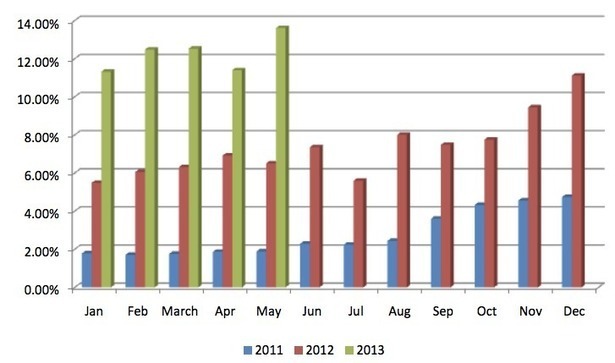 Mobile search spend up 132% year-on-year
New data from Covario shows that the level of investment in mobile paid search is slowly catching up with consumer behaviour.
On a global basis mobile search advertising accounted for 16% of total spend in Q2, of which 10% was spent on tablet and 6% on smartphone.
This represents an increase of 39% compared to Q1 2013 and a massive 132% increase year-on-year.
CPC prices varied significantly depending on the mobile platform. CPCs on smartphones remained at a 40% discount to desktop CPCs, but have increased nearly every quarter for the last five quarters – with the exception of Q4 2012.
Consumers want to resell digital purchases
A new report from WorldPay found a growing demand among consumers to resell their digital content and video games.
Consumers in China had the biggest appetite for selling on content, with 82% of respondents keen to resell, followed by South Korea (78%) and India (66%).
Almost half (49%) of UK consumers were interested in being able to resell their digital purchases, and 55% were keen to buy second-hand digital products.
56% of businesses rely exclusively on Google for web analytics
More than half of businesses rely exclusively on Google Analytics (GA) for their web analytics while just 11% don't use the tool at all, according to data included in the new Econsultancy/Lynchpin Online Measurement and Strategy Report 2013.
This is a massive increase since 2009 when just 23% of respondents said they used GA exclusively.
With GA having a reputation as both free and easy to use, and having a strong community around getting the most out of the tool, it is no surprise to see the majority use it.
The increase since 2011 could, however, be partly due to the discontinuation of Yahoo's free analytics tool, which was used by 8% of companies and 18% of agencies last year.
Does your organisation use Google Analytics?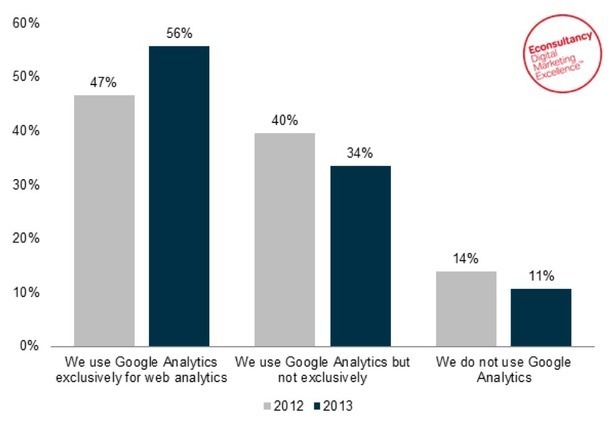 Google+ second for social logins
A new study commissioned by Janrain shows that, of the people who use social networks to log in to other websites, almost half (46%) use Facebook. But Google+ is in a strong second place, with 34% of social logins.
Yahoo came in third with just 7% of social logins, while Twitter accounts for just 6%.
Digital brands top buzz rankings
The latest YouGov half-year BrandIndex shows that online brands are continuing to perform well in terms of consumer perception.
BBC iPlayer came in first place, with MoneySavingExpert.com in fourth, BBC.co.uk in sixth and YouTube in seventh.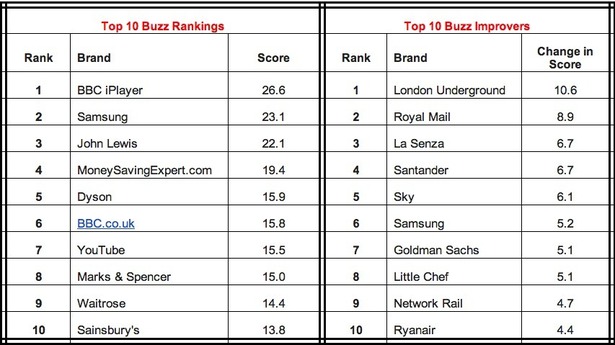 More than one million apps were produced last year
New research from eBay shows that mobile apps involving retail products or services had a 42% success rate for reaching launch stage, with just shy of 73,000 retail apps made available in app stores last year.
The majority of these were 'informational', but around one in five (18%) allowed consumers to purchase goods, underlining the importance of mobile in the rise of 'anytime, anywhere' shopping.
The research also shows that 64% of apps that started development were never finished or rejected by app stores, accounting for £3.19 billion of development costs globally.
The average price of a basic app costs £12,000 and more advanced apps are an estimated £55,000.
Small businesses fail to make the most of social
A new report commissioned by LivingSocial has revealed that small businesses are potentially missing out on £554 million each year by not using social media tools fully.
The survey, conducted with 500 SMEs across the UK and Ireland, showed that 68% of small businesses are failing to take advantage of all that social media has to offer by not using its full potential, likely missing out on substantial opportunities to increase revenue.
Of the 4.8 million small businesses in the UK, nearly a quarter (23%) earn over £1,000 per annum through connecting with consumers on platforms such as Facebook, Twitter and LinkedIn.
Over a third (36%) of small businesses are generating less than £150 per year from their social activity and those surveyed earned an average of £170 per year through these channels.
Read the original post at Econsultancy.com