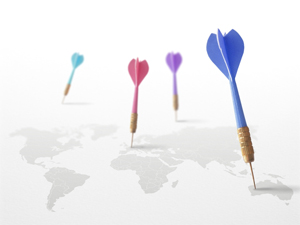 Proximity marketing is emerging as the new battleground for brands to engage with their customers at the point of purchase. And it's raising some big questions around data ownership between brands and retailers.
Speaking on a panel in Sydney to mark the release of the 30th annual Starcom Mediavest Group (SMG) Media Future Report, Kellogg's A/NZ marketing director, John Broome, said the ability to combine mobile connectivity and in-store experience through proximity marketing technologies opens up a key new opportunity for the FMCG brand to engage with customers.
While there has been a decline in spending around in-store promotions and advertising, this year's SMG report showed 41 per cent of advertisers intend to use SMS in their campaigns in the coming year.
The report also noted that store proximity is emerging as "the new battleground to influence point of purchase", thanks to increased acceptance among consumers to allow location sharing when using apps and push notification on their smartphone.
"Location-based marketing is potentially – and certainly in the FMCG world – what we're all looking for," Broome claimed. "The opportunities around proximity marketing and some of the stuff that's happening overseas in markets like Japan, could have huge applications in Australia.
"This is a new frontier, and it will drive much better quality interactions between the targeted consumer and an offer, which is right in front of their eyes."
There are emerging questions, however, around who owns the data generated in that retail environment. When asked about who currently owns and distributes the data being collected at the point of purchase, Broome said it was the retailer.
"There is that technology advancement, but there's got to be a sensible relationship between the brands and the retailers to make that work," he said. "We can't be too greedy too soon, because that could just kill it."
The proliferation of location-based technologies in other markets, but not as yet Australia, was a potentially indicative of the immaturity of the local industry's approach to date, Broome said. Partnerships between retailers and data analytics firms like Quantium, are a vital component in the long-term viability of these services, he continued.
"How that data is used, parcelled up, sold on and then wrapped around our ideas and our ability to use that data to reach people in-store – that's a big, big opportunity going forward," Broome said.
Optus head of advertising, channel marketing, social media and sponsorship, Karen Phipson, said the telco's adoption of proximity marketing services would be dependent on the situation and type of customers being targeted. For example, she saw opportunities to employ the technology in physical spaces where Optus is competing more for attention, such as a supermarket.
"It's less so [important] when consumers are closer to our stores, where it's a slightly different consumer experience," she said. "There's also more consideration with some of our products – it's a two-year cycle for a lot of our products – although pre-paid is different and that's where you might start to look at proximity."
Read the original post at CMO.com.au