GOOGLE SHOWED OFF any number of potentially revolutionary technologies at its I/O developer conference keynote Thursday. There was Jump, a platform for generating 3D virtual reality content, and Brillo, Google's latest entrant into the smart-home horse race. But the company's most important announcement was the evolution of a technology that's nearly three years old. It laid out a course for making apps obsolete and getting users back onto the web, where Google is master. And that course is paved by Google Now.
Getting To Now
Google Now project manager Aparna Chennapragada presented a vision for Now in which it not only provides all the information you could possibly need, but also knows when you need it and in what form. That's always been the logical path forward for Android's digital assistant. But Now was limited by its ability to draw info primarily from Google services like Gmail and Maps. No longer. Last month, the company announced new integrations with 70 services; at I/O, Chennapragada confirmed the number now tops 100.
More impressive, though, might be Google Now's contextual awareness, its ability to know where you are and what you might need there. "We understand more than 100 million places," Chennapragada said during her presentation. "Not just their physical layout and geometry, but also interesting things like when are they busy, when are they open, and what are you likely to need when you're there."
Those answers are summoned from the depths of Google's knowledge graph, a collection of over one billion entities (sports teams, recipes, gas station locations, and so on) that might be useful to you even if you didn't realize it. They're also increasingly supplied by information housed in third-party apps—apps you have less and less reason to visit as Google Now becomes smarter and smarter. It goes beyond pure information, too; you can play Pandora stations in Google Now, or order groceries from Instacart.
That's the shorthand version of where Google's digital assistant is today; a one-stop shop for many—if not all—your mobile needs. "We hear about glanceable moments when it comes to the Watch quite a bit," says Forrester Research mobile analyst Michael Facemire, "But there are glanceable moments on your phone as well, and that's what Google Now is great for."
That alone would be enough to signal Google's interest in making apps far less essential, if not removing the need for them entirely. But it's the new stuff in Google Now—coupled with a few other Google announcements—that speaks to just how far from the app ecosystem Google wants to move.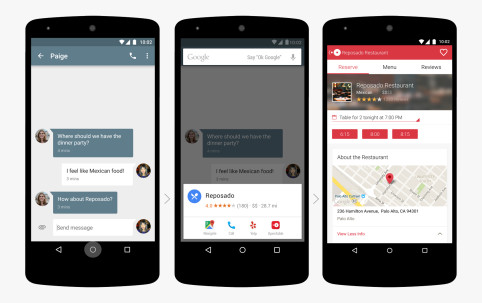 Tap Dancing
The marquee new Google Now feature is Now on Tap, which allows developers to integrate the service's contextual brilliance into their own offerings. It's neat! In an example Google provided during the keynote, if you send a text about your dry cleaning, a tap and hold will bring up information about the dry cleaner, including a "smart reminder card" to bug you about picking it up. In another example, an email about Tomorrowland brought information about the movie.
The new stuff in Google Now speaks to just how far away from the app ecosystem Google wants to move. This could be hugely useful to users. But the reason it's useful is it negates the need to leave whatever app you happen to be in to open another. You stay in your message client, you stay in email. You don't waste time going next door for a cup of sugar; Google Now makes the sugar magically appear in front of you.
The combined power of the dedicated Google Now app and Now on Tap will leave little reason to juggle apps, or even have many installed on your phone. Most of what you might need them for flows through Google anyway. And as Google continues to index the information within those apps, it's easy to envision a scenario in which it's providing information that's more than just glanceable.
Such consolidation brings some counterintuitive results; while it's certainly bad for apps, there's plenty of potential upside for the services that power them. If nothing else, it's another chance to be seen by a wider audience, one not dictated by your ranking in the Google Play store.
"From a developer perspective, I look at it as new opportunities," Facemire says. "I can provide Google with my data sources and let them take care of the card UI, and when to present it. It provides an additional opportunity for my content to be seen."
Meanwhile, Google provides a frictionless mobile experience for its users, while collecting scads of previously unavailable data about them. That data goes on to power the sort of machine learning and deep neural networks that drive Google Now, and more importantly to feed the Google ad-serving machine, which still accounts for 90 percent of the company's revenue.
It's not all good news for app-makers. Information that you provide that ends up in Google Now can't be monetized, and there's no guarantee you'll fare any better under the assistive card-based paradigm than you did in the Play Store. Or that even if you do pop up in front of new users you'll be able to convert any of them.
Still, the marginalization of apps doesn't necessarily mean a similar fate for the companies that make them. Google still needs sources to pull those recipes and gas station locations and everything else from. For now, anyway. It just doesn't need them in that particular packaging.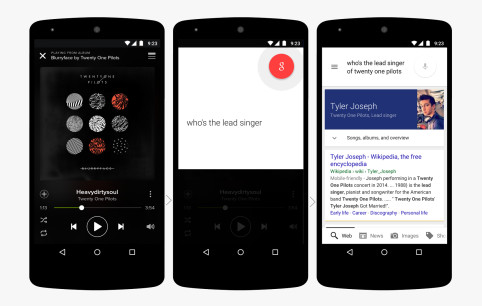 Back To the Web
What makes Google Now's pull away from apps even more compelling is that it was joined at I/O by a series of gentle pushes in the same direction. Google's doing everything it can to get us all back to the web.
"One of the subtle undertones that we got throughout this morning was, 'Look at all these things you can do on the web,'" Facemire says. "The web is the underlying architecture behind everything Google is doing, even on Android."
The web-positive tweaks at I/O were too numerous to list comprehensively; they permeated the presentation. The new Google Photos enables easy sharing directly from the web. Polymer 1.0 enables developers to make web apps that feel just like native apps. Google SVP Sundar Pichai's periodic onstage appearances were a reminder that the Chrome, Android, and Google Apps teams are overseen by the same man.
The appeal of the web to a company like Google is obvious, says Facemire. "It's ubiquitous, and it's something that the other manufacturers and operating system providers can't edge Google out of. The web is for everyone; it's always going to be there."
The logical extension of that, of course, is that the more places Google can be, the more integral it can be to our lives, and the more data it can vacuum up to monetize. The web didn't die after all; it just looks more and more like what we thought would replace it.
Which is what makes apps so contrary to Google's future, and Google Now so vital. Apps put information in little cages you can visit when you feel like it. Google Now lets that information roam free, to find whomever might need it most.
Read the original post at Wired.com