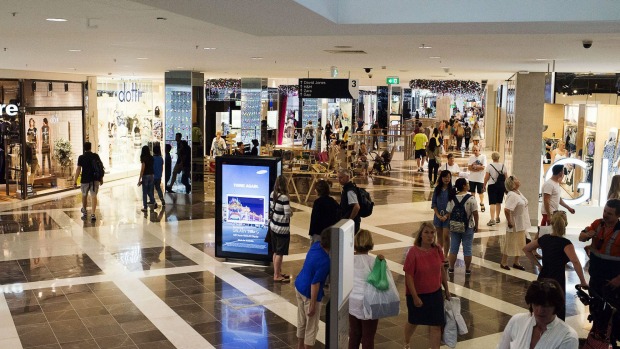 By using data analytics, tenants and landlords can tailor their centre to their customers. Photo: Christopher Pearce
Retail landlords are discovering that the secret to making a shopping centre more profitable and relevant is using consumer and business data captured by banks through cashless payment systems.
While the use of tools to track spending habits is not new, using it to offer tenants real-time statistics to help improve their business is – and it's being embraced.
Knowing where customers spend their money is invaluable for the landlord and tenant to curate a centre that offers exactly what customers demand.
Such data will improve small-business operations and enhance banks' value proposition for services. According to George Wragge, associate director for project leasing and retail at Colliers International, this level of data analytics could be applied on a larger scale – not only to smaller retailers, but larger department stores and shopping centre landlords.
Mr Wragge said at a time when the shopping centre offering is evolving – with more food, and space – getting the right leasing plan is crucial. Data analytics help this.
He said shopping centres were trying to adopt more consumer tracking with Bluetooth, but actual payment data was far more comprehensive. Bluetooth beacons usually rely on shoppers choosing to participate, whereas transactional data is produced regardless.
He said three key groups benefited.
"The landlords will be able to create better leasing plans and provide an enhanced value proposition to tenants; the tenants will have better consumer insights and be able to streamline their operations through promotions, inventory and staffing; and consumers will have a better experience through faster transactions, better product placement and a more enjoyable, seamless and logical shopping experience," Mr Wragge said.
"Australian banks are increasingly relying on technology to boost profitability and competitiveness. To enhance their value proposition to the business sector, banks are supplying extensive levels of consumer data so that business owners can streamline their business models. But how can this technology be implemented on a larger scale?
"The Australian consumer economy is steering further away from cash-based transactions and more towards contactless and card payments. As a result, banks have become the stewards of immense consumer data sets giving intelligence on consumer profiles and their spending patterns."
The story Data analysis is the new frontier for retail landlords first appeared on The Sydney Morning Herald.
Read the original post at SMH.com.au