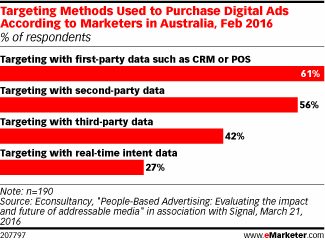 Executives say the discipline has noticeable ROI impact
Much like their peers in the US, advertisers in Australia are increasingly interested in people-based ad targeting solutions, noting the technology offers more visibility into online shopper habits as they move between purchase sessions and devices. The discipline, which typically relies on advertisers' first-party customer data to improve the placement and delivery of ad campaigns, is believed to boost ad relevance and improve ROI.
As it turns out, many advertisers in Australia are already embracing people-based targeting when purchasing ads. February 2016 research from Econsultancy found that 61% used first-party data from customer relationship management (CRM) and point-of-sale (POS) in their advertising buys. Another 56% of marketers polled said they had used second-party data for targeting, referring to first-party data sets shared by trusted partners.
In addition to first- and second-party data, many marketers in Australia also rely on third-party data sources to help fill in gaps in audience knowledge. Typically, this refers to the audience profile tools offered by digital advertising platforms like Facebook, Google and Twitter, among others. Econsultancy also looked at whether marketers in Australia had used such marketing technology solutions. Some 62% said they used Facebook's Custom Audiences tool, while another 53% mentioned Google AdWords' Customer Match.
Marketers' belief in the effectiveness of people-based ad targeting suggests the technique has a noticeable impact on the bottom line. Three-quarters of respondents said their use of first-party data resulted in "very strong" or "strong" ROI. Even though these types of audience-profiling systems still can lead to some false positives, particularly when it comes to cross-device targeting efforts, the results suggest the technique is having a noticeable impact.
Read the original post at eMarketer.com