PALM DESERT, CA – Two Home Depot executives at eTail West 2016 said that product indecision among consumers prompted the retailer to roll out its Color Project mobile application and online center, offering real-life visuals to users and consequently driving more in-store traffic.
During the keynote session, "The Customer Journey – Execution From A Home Improvement Lens," the executives discussed Home Depot's journey to interconnected retail, which focuses on customers using multiple devices throughout their exploration and purchasing experiences. Home Depot sought to leverage digital channels to revamp its paint-buying process, due to customers' indecision when it comes to picking the right colors or products for their home improvement projects.
"In talking to customers, we were able to identify where the biggest gaps were in the experience," said Samara Tuchband, senior director and general manager of online merchandising at The Home Depot. "One of the big nuggets that came out was that we really needed to focus on just color and their ability to have confidence when they came in-store to take in our color wall, which can be overwhelming.
"We had to reimagine how we might approach color in a nontraditional way and digitally replicate the store experience."
Nailing streamlined experiences
Although Home Depot does not see a staggering number of online sales for paint colors, the brand still wanted to use digital properties to fuel additional in-store traffic. Since many homeowners prefer to research colors before purchasing, it was imperative to develop an online center and mobile application that are customized to each user's exploration process.
The Home Depot's Color Project app helps paint shoppers find the right shade and functions as the focal point of an effort to create a best-in-class omnichannel experience the chain says is an improvement on similar offerings from other marketers (see story).
To roll out its new offerings, Home Depot joined forces with a third-party agency.
"We have a robust team already, but in order to take this project on, we decided to supplement our team with an outside agency," said Carol Hedeen, senior director of digital design, customer experience and site marketing and content at The Home Depot.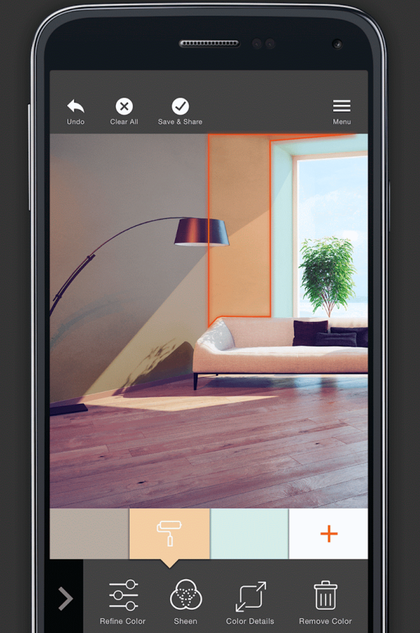 The Project Color app is a one-stop shop for paint buyers
The retailer first mapped the entire online journey using internal data, as well as customer and store associate insights.
It aimed to streamline the color-choosing process, as this is something consumers frequently find difficult. Forty-one percent of customers delay a purchase due to indecision of which color to purchase, while 31 percent delay projects as a result of not knowing which products are right for them.
By visiting the online color center or using the Project Color app, individuals can better visualize how a shade may look in their dining room or bedroom areas.
Additionally, Ms. Tuchband revealed that real estate agents have given the app favorable ratings in the App Store. Many of them use the app to close sales with potential homebuyers, since they can show people how a specific room would look in another paint color.
The chain of engagement
Home Depot gazed at its digital strategies as one cog in the wheel of engagement. Individuals were able to begin the researching process on mobile or online, allowing the brand to glean valuable data on customer behavior, while stores readied themselves for influxes of new customers.
The renewed focus on mobile comes on the heels of Home Depot's previous success with smartphone-specific tactics.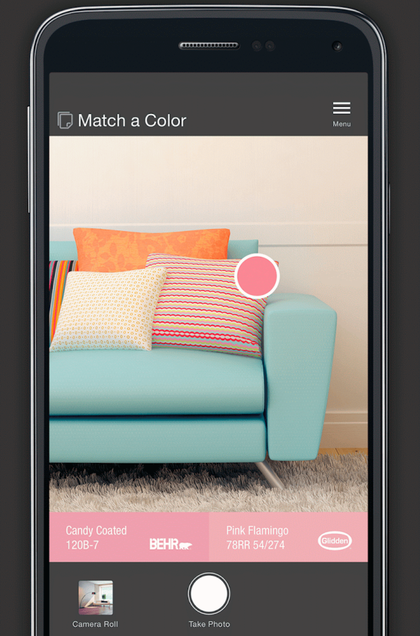 App users can leverage the app to match shades to furniture items
Another Home Depot executive said that the chain is now reaping the rewards from starting to invest in mobile years ago and expects more good news in the future as it focuses on enhancing search capabilities, streamlining in-store checkout and experimenting with new innovations (see story).
"Collectively, we were part of a bigger success story which was, are we making gains in market share, were our metrics from our dot com standpoint pointing in a way that said yes, I have the intent to go to the store next?" Ms. Tuchband said.
Read the original post at Mobilemarketer.com