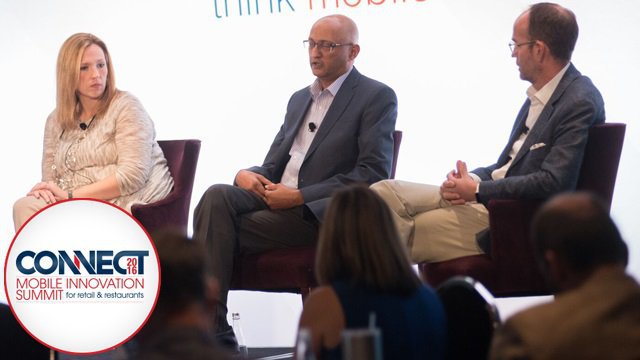 There is a well-worn philosophy when it comes to the real estate industry: Location is everything. The same is true for the restaurant segment when it comes to deploying customized marketing to the customer base.
Thanks to emerging technologies, such as beacons and geofencing, this kind of "proximity" marketing is becoming a more valuable tool that offers a competitive approach that engages customers, captures their attention and lures them into the brick-and-mortar sales environment.
And while such location-based tools aren't new, they are constantly being honed to be more accurate and valuable.
"We're always looking at location — how we can pinpoint and get it more granular," said Raj Nijjer, VP, community, at Yext, who moderated a panel on location marketing during Networld Media Group's CONNECT Mobile Innovation Summit in Chicago Aug. 15 -17.
The panel focused on efforts in play, lessons learned and what leading retailers — from the restaurant industry to the airline industry — are focusing on regarding location-based customer marketing.
Location-based marketing is "the best way to reach customers around our location and it's a very cost-effective way to market to consumers," said Erin Levzow, Freebirds World Burrito marketing VP, and a 2015 Mobile Marketer "Top 25 Women to Watch in Mobile" award winner.
Beacons and operational messaging are providing airlines with a unique way to reach customers within in the airport environment. These tools are also getting more specific with technological advancements, noted Jeff Ulrich, senior manager, ecommerce digital innovation, at United Airlines.
The panel noted that a major factor in location-based marketing technology advancement is mobile device use by the consumer.
"We're not quite there yet [with beacons] and it's a sensitive channel to market to phones," Ulrich said, noting consumers "will shut down the [mobile] channel quick if it's not valuable."
There are some spectacular gains to be had, he added. These include the ability to notify operations internally about flight connections. For example, holding flights so consumers on delayed flights can keep traveling is "huge" in terms of building customer loyalty.
In supermarkets, the opportunity to identify new shoppers as they enter a store is invaluable for the retailer. However, reliable and accurate data is a key part of location-based marketing, noted Amit Bhardwaj. As a loyalty and digital marketing leader, Bhardwaj has worked with The Marsh supermarket chain on its ibeacon platform, as well as with other retailers including SpartanNash, Albertsons and Supervalu.
"Beacon deployment, mobile shopping tracking — it's about enhancing the first time experience," he said.
Levzow, who will speak about mastering the omnichannel customer experience at next month's Fast Casual Executive Summit in L.A., knows something about the tool as she began working with location beacon initiatives, during a job role in Vegas, six to seven years ago. At the time Levzow said the technology sounded a bit "ridiculous" but she recalls telling her team, "Let's try it anyway."
Now it's proving to a "big win" for Freebirds, she said.
The key to success with such targeted marketing of the mobile consumer is to understand the consumer's needs and wants — the mission of the consumer, said Bhardwaj.
Today's shopper, he explained, has a list on an app and is looking for savings, while also likely hoping to get what is needed n one place. The retailer, in response, needs to help the shopper in that quest.
"It's the digitalization of the customer journey," he said.
In the airline industry the mobile device has radically changed how people travel, noted Ulrich.
"It's more powerful than kiosks in the airport and PC on the desktop," he said, adding that mobile is playing a role in everything from reservations and ticket purchases, to check-in and boarding.
"One piece of hardware opened up the world and is one of the most important we work with," he said.
Read the original post at Fastcasual.com